Why invest in the mobility innovation theme?
 
1. Wider adoption of mobility innovation technology is expected bring huge investment opportunities
Driverless delivery methods are more cost-efficient, and smart transport logistics mean the movement of goods becomes cheaper and faster
Vital areas, such as healthcare services, the hospitality industry, and service delivery, will all benefit from innovation
On-demand transportation removes the need to own a vehicle and reduces pollution
Source: Visual Capitalist, Intel and Strategy Analytics, published February 2018. Values represent projected global revenue from commercial services, new-uses and consumer development services by 2050, respectively. Newton Investment Management North America has reviewed the above research and believes the findings are still valid even without the inclusion of more recent data.

2. Four key drivers of mobility innovation


CYBER/CONNECTIVITY
 
Today's vehicles are increasingly connected to the world around them and are increasing resembling smartphones on wheels. Due to rising software content and more sensors per car, today's vehicles are transforming into new cyber platforms that generate huge amounts of data. This data is analyzed to provide higher efficiency and improved safety


AUTONOMOUS/ADAPTIVE
 
Autonomous, or self-driving cars, are still very much in our future. Before we reach this future, we will continue to see the industry introduce more smart features and infrastructure that will adapt to us and our existing vehicles.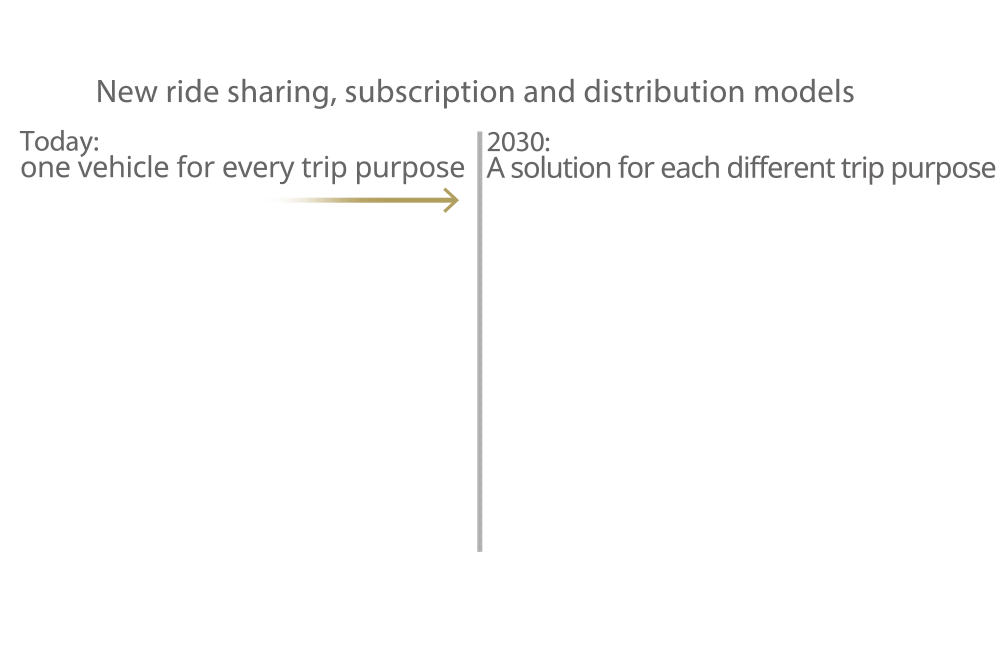 SHARING
 
Sharing will evolve from ridesharing services like Uber and Lyft to consumers moving away from owning vehicles to subscription models. This will also lead to broader data sharing relationships. As privacy laws take hold around the world, companies and consumers will begin to redefine how data is shared, stored and monetized. Consumers may begin to opt-in to new services and they will control how their personal data is used. This new relationship can expand trust with companies and fuel higher value added services.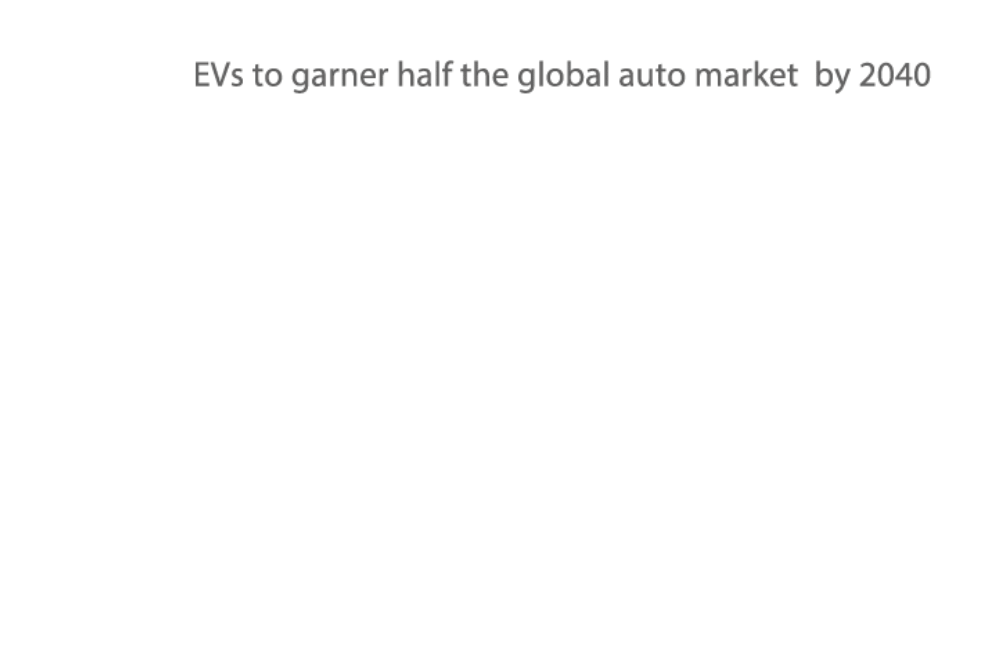 ELECTRIFICATION
 
The mobility industry has invested billions of dollars to bring electric powertrains to market. Electric power trains offer the potential of reducing transportation emissions that account for over 25% of the world's total emissions. Thanks to this investment, electric power is nearing the inflection point of replacing combustion engines that been in use for over a century. Today, we see not only an opportunity to invest in electric cars, but in other types of businesses including commercial trucks, buses, bikes and in the future, aircraft.
Sources: Bottom left: McKinsey Center for Future Mobility as at September 2017. Bottom right: Bloomberg New Energy Finance as at 21 May 2018.
Newton Investment Management North America has reviewed the above research and believes the findings are still valid even without the inclusion of more recent data.
3. Hydrogen: next horizon solutions for cleaner energy
Mobility Innovation is not limited to electrification, but looks to all forms of power for mobility. Compared to battery electric vehicles (BEVs), a compelling feature possible for fuel cell electric vehicles (FCVs) powered by hydrogen is enjoying faster refuelling times resulting in less disruption to driver routes. Perhaps not for widespread individual use at first, we do foresee the most likely application to start with the commercial/truck segment of the market – primarily for long haul, heavy duty trucks. There is much still to be solved for and develop but, as we drive towards the next horizons of greener energy solutions, we are positive on hydrogen as an alternative fuel source playing a role in the future energy mix.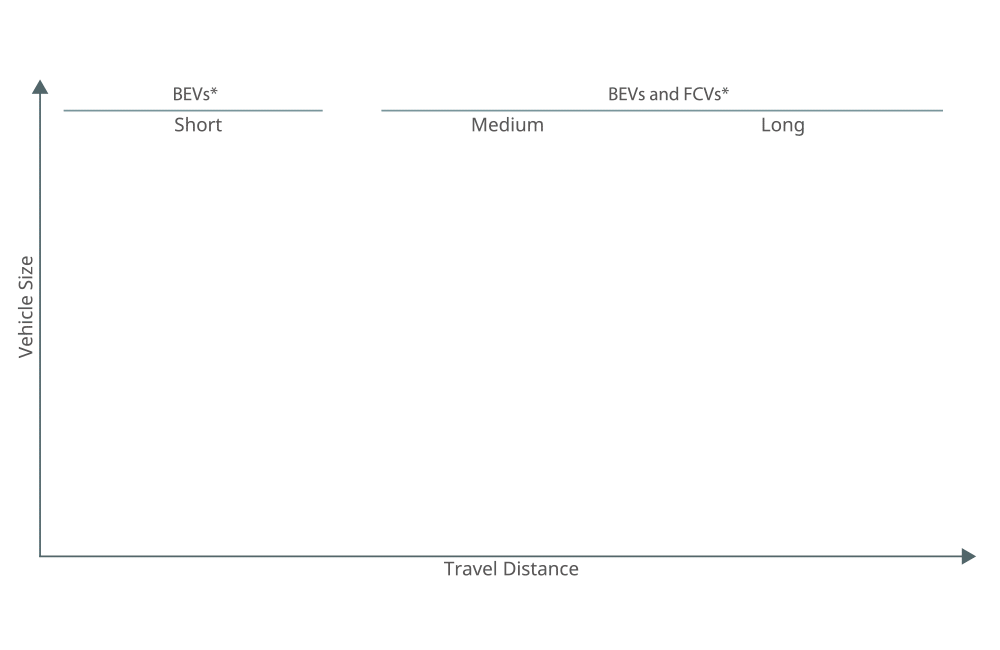 *BEV –Battery Electric Vehicles, FCV –Fuel Cell Vehicles. Source: Green Car Reports and NIMNA
Why BNY Mellon Mobility Innovation Fund?
 
Focus on disruption – CASE approach
The Fund seeks to deliver capital growth by investing in businesses that are likely to benefit from a massive shift in how we use, power, and control all means of mobility.
The portfolio has a wide enough interpretation of Mobility to create a well diversified, broad product both in terms of sectors and stock selection. The strict screening and ranking of stocks however, ensures there is no drift and that all holdings are highly integrated into the theme or in the process of changing their businesses to be so.
Invest with conviction; focus on stock selection
Within the proprietary universe of companies materially exposed to the theme, the portfolio leadership team manages an investment process built around fundamental security selection. Bottoms-up fundamental research analysts collaborate with specialist researchers focused on private markets, investigative, forensic, geopolitical, responsible investing and quantitative techniques to uncover as much of the full mosaic in order to generate the best ideas for the portfolio. The portfolio leadership team will explore up and down value chains or across industries relevant to the theme to try to capture the best long-run risk-for-reward opportunities and construct a well-diversified risk-managed portfolio.
Extensive experience in thematic investing
The team behind the fund has been providing dedicated thematic solutions to investors since 2011. The Fund is managed by a highly experienced team with an average of 25 years industry experience and a strong track record in fundamental analysis.
About the Fund

Investment objective: To achieve long-term capital growth by primarily gaining exposure to companies located worldwide that are focused on innovation in transportation and related technologies.


Available share classes
Share class
Minimum initial investment
ISIN
Factsheet
Benchmark
Launch date
USD B (Acc.)
USD10,000
IE00BZ199S13
MSCI AC World NR Index
31 August 2021
EUR J (Acc.) (hedged)
EUR10,000
IE00BZ1HLQ76
MSCI AC World NR Index
1 November 2018

 

 

SGD B (Acc.)

 

 

 

 

SGD10,000

 

 

 

 

IE00BZ199V42

 

 

 

 

MSCI AC World NR Index

 

 

 

 

24 Jun 2022

 

 
Past performance is not indicative of future performance. The value of investments and the income from them is not guaranteed and can fall as well as rise due to stock market and currency movements. When you sell your investment you may get back less than you originally invested.

WARNING

Key investment risks

Objective/Performance Risk:There is no guarantee that the Fund will achieve its objectives.

Currency Risk: This Fund invests in international markets which means it is exposed to changes in currency rates which could affect the value of the Fund.

Derivatives Risk: Derivatives are highly sensitive to changes in the value of the asset from which their value is derived. A small movement in the value of the underlying asset can cause a large movement in the value of the derivative. This can increase the sizes of losses and gains, causing the value of your investment to fluctuate. When using derivatives, the Fund can lose significantly more than the amount it has invested in derivatives.

Emerging Markets Risk: Emerging Markets have additional risks due to less-developed market practices.

Market Capitalisation Risk: Investments in the securities of small to medium-sized companies (by market capitalisation) may be riskier and less liquid (i.e. harder to sell) than large companies. This means that their share prices may have greater fluctuations.

Counterparty Risk: The insolvency of any institutions providing services such as custody of assets or acting as a counterparty to derivatives or other contractual arrangements, may expose the Fund to financial loss.

Mobility Innovation Companies Risk: The value of investments in Mobility Innovation Companies may be negatively impacted by changes in regulation and are dependent upon consumer and business acceptance of new technologies. The Fund's value may be more subject to market fluctuations than if it invested in a broader range of economic sectors.

Share Class Hedging Risk: The hedging strategy is used to reduce the impact of exchange rate movements between the share class currency and the base currency. It may not completely achieve this due to factors such as interest rate differentials.

Share Class Currency Risk: Share classes may be denominated in a different currency from the base currency of the Fund. Changes in the exchange rate between the share class currency and the base currency may affect the value of your investment. This document is not intended as investment advice. For more information please visit www.bnymellonim.com.

IMPORTANT INFORMATION

This Fund is a sub-fund under BNY Mellon Global Funds, plc (the "Responsible Person"), which is an openended umbrella investment company with variable capital incorporated in Ireland with segregated liability between sub-funds and authorised by the Central Bank of Ireland. The Fund is recognised for retail distribution in Singapore under Section 287 of the Securities and Futures Act (Chapter 289 of Singapore). The Responsible Person has appointed BNY Mellon Investment Management Singapore Pte. Limited ("BNYM-IM-SG") as its Singapore Representative. The prospectus in relation to the Fund is available and a copy of it may be obtained from http://www.bnymellonimapac.com/sg/funds or at BNYM-IM-SG's distributors. A potential investor should read the prospectus before deciding whether to subscribe or purchase units in the Fund. The value of the units in the Fund and the income accruing to the units, if any, may fall or rise. The net asset value of the Fund is likely to have a high volatility due to its investment policies or portfolio management techniques. This document shall be used in Singapore only and shall not be used for the purpose of an offer or solicitation in any other jurisdiction or in any circumstances in which such offer or solicitation is unlawful or not authorised. All information herein is made for information purposes only and subject to change at any time without notice, and should not be construed as investment advice or recommendation. Investors should seek relevant professional/financial advice before investing in the Fund and should read this document in conjunction with the prospectus of the Fund. The Responsible Person, BNYM–IM-SG and its affiliates are not responsible for any advice given to investors. Investments involve risks. A complete description of risk factors is set out in the Prospectus. Past performance is not a guide to future performance. The value of investments and the income from them is not guaranteed. The Fund may invest in financial derivatives. When you sell your investment you may get back less than you originally invested. This advertisement or publication has not been reviewed by the Monetary Authority of Singapore.

Issued by BNYM-IM-SG (Co. Reg. No. 201230427E)

AP2027-24-02-2023 (12M)